MicroDie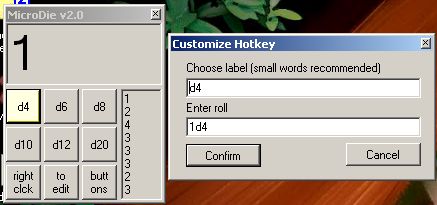 MicroDie v2.0
What is MicroDie?
MicroDie is a simple program for rolling dice that's meant to play well with others. It always stays on top of other applications, but its small size means that it doesn't get in the way. Even better, using the number pad you can control it even whle working in other programs, without disrupting your workflow or using the mouse!
Why use MicroDie?
MicroDie, above all else, is meant to be used with other things. If you only use the computer for rolling dice, check out
DiceChucker
instead. However, if you've got programs open for managing sounds, PDFs, maps, or others, and just want a fast and simple way to roll dice discreetly, this is for you!
How to use DiceChucker
See the readme file included in the zip for instructions. MicroDie doesn't require any installation, just run it!
Having trouble?
If you're having troubles, try installing the .Net Framework, which can be downloaded from Microsoft
here
.
Version history
2.11 6/23/08
2.1
6/20/08
MicroDie will now remember your settings.
Added icon to all dialogs.
A help window is displayed the first time the program is run.
2.0
6/18/08
After playing with it a bit, I changed the concept to emphasize the buttons. It now consists of 9 buttons and no "custom field," but you can edit any of the buttons by right clicking on them.
Download MicroDie v1.0

MicroDie v1.0
1.0
6/16/08