Chronepsis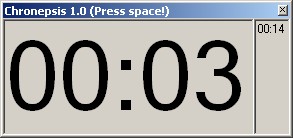 Chronepsis v1.0
What is Chronepsis?
Chronepsis is designed specifically for keeping track of turn time limits in RPGs, but can be used any time you want to easily track how long since something happened.
Why use Chronepsis?
Because it's simple and easy! It stays on top, so it's always visible even if you're working in another application, and you don't have to select it in order to reset the timer, just hit space from any program.
How to use Chronepsis
Just open it. Press space to reset the time. The previous time is logged on the side.
Having trouble?
If you're having troubles, try installing the .Net Framework, which can be downloaded from Microsoft
here
.
Version history
1.0 6/16/08